Me and my team members have decided to change our proposal idea because our previous idea wasn't good enough and it was pretty impossible to make it happened due to the lack of resources. And the material we planned to use aren't easy to get it. Our objective for the previous proposal wasn't strong enough too.
With the new proposal, we intend to invite young adults and parents to have a great time together. We wanted the children to interact with creativity too. We were inspired by Sandra Lee's playscape, 'The Fynn on Sticks'
Fynn the fish on sticks encourage children to discover mysteries, unexpected surprises, stories of friendship and courage along the way. I like how this is an installation and kids could interact with the installation. This will not bore kids as kids may be too young to appreciate art.
We were also inspired by team lab. They are having an exhibition in ArtScience Museum in Singapore. The exhibition I went to was Future World where art meet Science. The exhibition was of course filled with kids and parents and also young adults like me who are curious. I didn't manage to take picture because I was busy interacting with all the works. But I will be including some pictures I have found in the internet.
What struck me most was how kids were given a template of sea creatures and Vehicles and they would draw or colour to fill in the template. Once they are done, they would scan their drawings and it will be projected. It was funny too how some parents would join and start promoting their business card.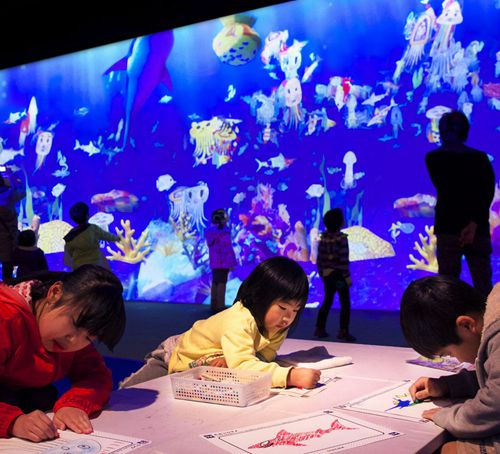 Our conceptual idea would be almost similar to Team Lab's but what differs is our intention. As inspired by the chronicles of Narnia, we decided to place a wardrobe on a room entrance. This would make kids and parents feel like they are in another world. Perhaps in their kid's world.
Our intention is also to create family bonding and we wanted it to be like an art therapy where parents would try to interpret their children drawing and try to understand what they are going through. As kids are allowed to draw mythical creatures, we are able to maybe acknowledge what they have been fantasizing. Their personalities can be identified through their drawings.
Whereas for team lab's they provide template for kids to fill in which I think it restricts children's creativity. We want to be open and we encourage creativity therefore kids are given the opportunity to draw any mythical creatures. We also encourage kids to design an environment for the background if they do not wish to draw mythical creatures.
Here is how it is planned :
Young adults and their parents will have to queue first




There will be two queues, queue A and queue B. Queue A will be for young audience who would like to participate and express their creativity. They will be given a sheet of paper and they may choose to draw a mythical creatures, animals or design the environment.. Queue B will be for audience who don't wish to participate in the drawing but would love to step into a hidden wonderland.




Drawings will be projected after being scanned. Projection per drawings will last for 15 minutes only.
The exhibition will be held at Singapore Art Museum and rates will remain the same.
For this project, we decided to use :
- samsung 360 projector
- ION wireless scanner
- Wifi2vga extender
This is how the layout would look like, the wifi2vga extender will transfer images to the projector via wifi,
After our presentation, we were told to work on our objective and be more concise. We were also told not to use the word understand and not to use the term art therapy as it is a huge term. I believe this comments would improve our proposal.
We also noted a few things that we should include in the proposal :
1. budget
2. Music
3. Speaker
We also will try to improve on the timing and add more descriptions and also do some citation.
sources ;
- https://www.nationalgallery.sg/learn/keppel-centre-for-art-education/art-playscape
- https://www.nationalgallery.sg/see-do/programme-detail/7/the-enchanted-tree-house-by-sandra-lee